A french tradition, the Escargots by Julia Child
---
About

this recipe

A French tradition, that you will find during the end of year season on many French tables, and occasionally in French restaurants

However to be honest, I feel like I've seen that dish more often in America than in France !

I guess the same goes with French people who think that Americans only eat burgers, Americans like to think Escargot is still a staple dish. However, the younger French generations just ignore this dish nowadays. Young French people are much more into sushis and organic food than buttery snails...
However, French Escargots are still a pure French Cuisine dish for gourmets that I cook on occasion, for friends and family. A dish that I honestly enjoy a couple times a year !
Though a recipe that seems so simple, there are actually a few tricks to know that I will share with you. Thanks to Julia's recipe !
---
Julia Child, we owe you respect
This is a recipe of Julia Child. I have a great respect for Julia, for the dedication to French Cuisine and her huge work to assemble the French recipes and techniques in her book
She acquired her knowledge while living in Paris and studying at the Cordon Bleu de Paris
Julia spent many years in Paris and discovered the French food, and while attending the Cordon Bleu, learned about French cuisine techniques.
When she moved back to the United States, Julia Child published her book "Mastering the Art of French Cooking, Vol.1", a masterpiece that is still a best seller that you still can find nowadays in all bookstores in the states. What an impressive undertaking !
In fact, the book was written with two French ladies, Simone Beck and Louisette Bertholle
These three ladies met in Paris and started an informal school "L'école des trois gourmandes" (The School of the Three Food Lovers). Whenever Julia appeared on television, she kept the same name on a sticker on her chest.
After writing her book, Julia appeared on American television in a series called "The French Chef"
I learned about Julia Child quite late : While living in Pasadena, I followed a couple classes at the Cordon Bleu in Pasadena, and the teachers mentioned Julia and her book (see HERE). Call it a Coincidence: Julia lived in Pasadena and studied at the Cordon Bleu (but the one in Paris)
I learned about Julia Child quite late : While I was studying classes at the Cordon Bleu in Pasadena, my teachers mentioned Julia and her book. Coincidence: Julia lived in Pasadena and studied at the Cordon Bleu (but that in Paris). Here's a photo of my mug with that house:
This house is not a museum but a private house
House of Julia Child
625 Magnolia Avenue
Pasadena, California
---
Julia in Paris
And when I visited Paris, (see HERE), I had to walk by the place she had been living in Paris...
House of Julia in Paris
81, rue de l'Université
75007 Paris
France
---
Le Film "Julie et Julia"
You probably saw the movie about Julia Child "Julie and Julia", starring Meryl Streep et Amy Adams
The movie shows Julia's life, including her days at the Cordon Bleu Paris
The movie tells the story when Meryl Streep (Julia Child) lives in Paris and then in the States
The house of Julia, in the movie, is not 'rue de l'université' as I told you earlier, the movie location was a bit further, and of course I had to see it as well, as I enjoyed very much the movie !
House of Julia (movie)
10, Rue de Seine
75006 Paris
France
There are other film locations to discover while in Paris : This article talks about those places
Julia Child's book "Mastering the Art of French Cooking, Vol.1" is a must-have...
I initially thought the book would not be very useful, to be honest. However I changed my mind : it is very useful ! Julia captured the traditional recipes, and this information is important to us, food lovers

The recipe is on page 103
---
Origin

of the recipe

This dish was in fact first described in a 1825 book, by the French cook Borel ("Nouveau dictionnaire de cuisine").
---
---
---
---
---
---
---
---
---
1. Let's start by mincing very thinly the Shallots (¼ Cup or 40 g)
2. Combine the minced Shallots (¼ Cup or 40 g) and the Butter (1 Cup or 226 g). Note that the Butter must be cold and not soft.
Non-Slip Cutting Boards
Sekiryu Santoku Japanese Knife
3. Chop very thinly the Garlic Cloves (4) and the Parsley (¼ Cup or 15 g) (for this I'm using a Cup Food Chopper)
4. Combine everything in a mixing bowl. Add in the Salt (1 pinch) and the Pepper (1 pinch). The butter must be cold
Ninja Food Chopper Express
Large Mixing Bowls, Stainless Steel
5. I do not recommend to mix by hand, as this would force you to overwork the batter which would turn too liquidy...
6. My recommendation is mix with the stand mixer (like a Kitchen Aid appliance), using the 'paddle'
KitchenAid 7-Quart Stand Mixer
Hamilton Beach Stand Mixer
7. Left: This is the result you should obtain, a creamy batter that is not liquid
8. Right: And this is what you should NOT get, a liquidy batter as it would make your job pretty difficult for the next steps
---
The shells
9. I bought those Escargot Shells, and I have been using them over and over for 10 years. Nature makes the best materials !
10. Wash them with boiled water and soap, rest a few hours, then rince, wash them with running water, and dry them in the sun
11. Finding escargot shells is not difficult anymore ! You can find them online, or even in grocery stores sometimes (I also saw them at Ralph's). To purchase online, see HERE
12. If you live in the Los Angeles area, you may find them at Nicole's or SURFAS:
13. You will also need the special silverware : snail tongs and snail forks. To purchase online, see HERE
Nicole's market
921 Meridian Avenue
South Pasadena, CA 91030
USA
Surfas
3225 W Washington Blvd
Los Angeles, CA 90018
USA
Escargot Snails Empty Shells
Snail Shells, Extra Large, 36 Count
Set Stainless Snail Tongs and Forks
---
The snails
14. Canned snails are also pretty easy to find nowadays, online or in stores (same as for the shells, I saw them at Ralph's and at Nicole's)
15. To purchase online, see HERE
Premium Burgundy Snails
---
Inserting the cream
16. The best option to fill the shells is to use a Pastry Bag
17. The pastry tip size shouldn't be too large : 0.39" (or 25/64" or 1 cm) in diameter
Disposable Pastry Bags
Piping Tips
18. Start by inserting the creamy batter
19. You may use a spoon, but it's not as clean as the Pastry Bag. Spooning is hard, but using a Pastry Bag is easier !
20. Left: And here's what happens when the batter is too liquidy, I warned you... it's pretty bad, he ?
21. Right: And with the right texture of the batter, the result is much better ! With a batter that is just creamy but not liquidy, you will fill the shells more easily. Nice, clean and sweet !
22. Then insert one of the 12 Snails
23. and finish by filling with more batter
24. Then press with your thumbs
25. To hold the snails in a upside down position, I am using special snail dishes
26. To purchase online, see HERE
27. Here you go!
28. At this stage you will place the snails in the refrigerator for a few hours until your guests arrive
6-Hole Ceramic Escargot Dish
---
Baking
29.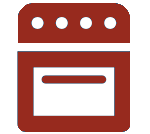 Finally, bake the Escargots in preheated oven at 360 °F / 180 °C for about 10 minutes
Ready to be savored !
Sooooo good... C'est siiii bon....