A hearty, healthy, delicious soup. What else?
---
About

this recipe

Let's talk soups today! I realize I haven't posted any soup this winter, although I eat homemade soups virtually every evening during winter season (it's really comforting to face the harsh Los Angeles winter, with our 70 degrees, I really need my daily soup). LOL.

Truth is, I like spiced soups (we saw some HERE), but when I have friends over and they don't like spices, here's a beautiful French soup, more traditional, very healthy and hearty that everybody likes.

I was surprised myself to like it so much. I thought this would be bland and boring, but truth is, between its texture and taste, this soup is pure bliss
No added fat in the soup, with a divine texture which reminds me of that of a velouté
The chef Sophie Dupuis then adds a crumble of "roquefort" (blue cheese), which goes really well with the broccoli flavor. However, if you want to keep this soup 100% vegan, just forget about adding the crumble
---
Source

of the recipe

The recipe is on page 172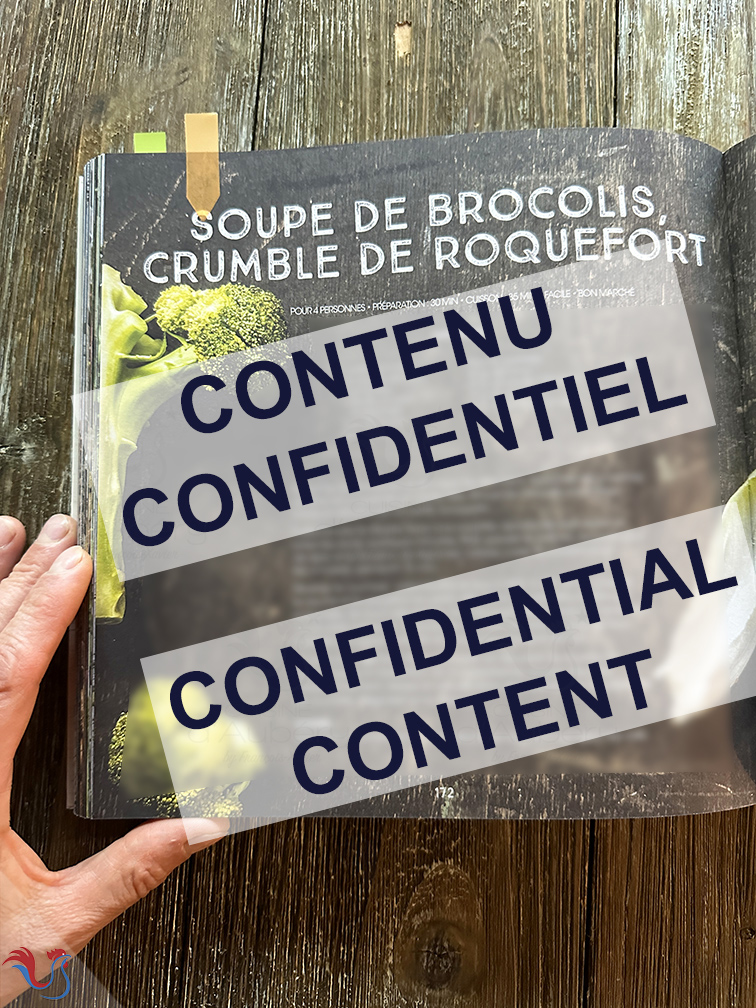 ---
Soups, Veloutés
A few definitions:
A Soup
● Soups, from Latin suppa, were originally a stock made of vegetables and meat, with big chunks in a flavored water. To make it more filling, ancients would add a piece of bread into it
A Mouliné
● is a soup that has been blended and strained
A Potage
● is a stock cooked with vegetables, served in a small bowl at the beginning of a meal
A Velouté
● is a soup, blended and strained, and thickened with corn starch or another thickener
A "Cream of"
● is a velouté with a heavy cream such as "crème fraîche"
A Consommé
● is a stock that has been reduced, and "cleared" (with the egg whites technique)
A Bisque
● is a velouté, made with fish and/or shellfish
---
Modifications

to the original recipe

I modified only a few things...

● For the crumble, I bake for only 10 minutes (vs. 20 minutes mentioned in the book)
---
---
---
---
---
---
---
---
Prepping
1. Peel and mince the Shallots (2)
2. Peel the Potatoes (1 ¼ lbs or 550 g) and cut into big chunks. By the way, I prefer using Sweet Patatoes
Non-Slip Cutting Boards
Oak cutting board
Sekiryu Santoku Japanese Knife
4 Japanese Knives
3. In a cast-iron pot (Dutch Oven), melt the Butter (1 Tablespoon or 15 g), on medium/high heat
4. Cook the Shallots (2), while stirring them
Cast Iron Dutch Oven Fontignac
Staub Dutch Oven
6-Quart Stock Pot with Cover
5. Add in the Broccoli (1 lbs 7 oz or 670 g), stir
6. Add in the Potatoes (1 ¼ lbs or 550 g), stir
Polyglass Spatula
7. For the Vegetable Stock (4 ½ Cups or 1 Liter) : I strongly recommend making your homemade stock : This will improve significantly the final taste
8. The recipe is HERE, an easy recipe to make
9. Pour in the Vegetable Stock (4 ½ Cups or 1 Liter)
---
Cooking
10. Lower the heat, cook with the lid on
11. Bring to a simmer and cook
12. Cook for about 15/20 minutes
---
Blending
13. Once cooked, blend: You may use either a blender, or a Food Processor (with chopping blades) or an immersion blender
14. Taste the soup and season with the Salt (1 pinch), but do not add too much ! The crumble is already very salty...
Immersion Multi-Purpose Hand Blender
Immersion Hand Blender Bamix
KitchenAid Food Processor
Food Processor Cuisinart
---
The Roquefort Blue Cheese Crumble
15. If you need a vegan soup, you are done !
16. Otherwise, here's how to make the crumble suggested by the chef Sophie Dupuis. I recommend it, as the taste blends perfectly with the broccoli
17. In a large bowl, combine the Flour (½ Cup or 60 g), the Butter (3 Tablespoons or 40 g) (cold and diced), the Roquefort Blue Cheese ( 3 oz or 75 g) and the Parmesan Cheese (3 Tablespoons or 20 g)
18. For the Blue Cheese : The chef recommends to take French "Roquefort", but you may substitute with any blue cheese that you may find
19. Combine with your hands
Stainless Steel Mixing Bowl
Large Mixing Bowls, Stainless Steel
20. Next thing is to crumble, with your hands or with a skimmer (with large holes)
21.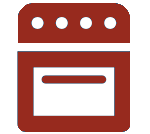 Bake in preheated oven at 400 °F / 200 °C, for about 10 minutes, or shorter in case the crumble bakes faster. Avoid burning the crumble !
Spider Strainer Skimmer
Perforated Baking Pan
Silicone Baking Mat
22. That's it! Your broccoli soup is ready
23. Pour into your bowls and add the crumble
Bon appétit!
Can be stored a few days in the fridge, in an airtight container