The Genoa bread ('Pain de Gênes') is a cake made from almond paste, eggs and melted butter, but only a minimal amount of flour.
---
About

this recipe

This is the recipe of a sponge cake that is delicious ! Think Almonds, Orange... just splendid. You may use it as a sponge to be used in your cakes, or just plain... you will love it!
---
Origin

of the recipe

This cake is said to have been invented to commemorate the 1800 siege of French forces at Genoa, when the city's inhabitants survived largely on almonds.
However, despite this it is not actually of Italian origin but French, and was invented by the 1840s Parisian pastry chef Fauvel, who worked at the Chiboust pastry shop. Fauvel initially called it gateau d'Ambroise (Ambrosia Cake)
---
Source

of the recipe

A recipe I learned with my pastry professor, Stéphane Tréand in Costa Mesa, California
See the article I wrote about Stéphane Tréand's school HERE
---
---
---
---
---
---
---
---
---
1. Place inside the mixing bowl: the Marzipan (¾ Cup or 200 g), the Eggs (⅓ Cup or 120 g) and the Orange Zest (1)
2. For the Marzipan : The recipe is HERE
3.
If the Marzipan is too hard, just warm it in the microwave 10 seconds to soften it
Almond Paste
4. For the Orange Zest, simply use a microplane grater
5. Professionals recommend to not grate the orange on the grater
Microplane Zester Grater
Zester Deiss
Professional chefs usually scrape the outer skin with the grater placed on the Orange, which will avoid grating the sour white pith ("skin").
Always leave behind the soft, white pith that lies underneath as it has a bitter, unappealing taste that you simply don't want to include
6. For the next steps: You may use either a stand mixer (like a Kitchen Aid appliance) or an electric beater
KitchenAid 7-Quart Stand Mixer
Hand Mixer
7. Whisk to incorporate the Marzipan (¾ Cup or 200 g) and the Eggs (⅓ Cup or 120 g)
8. Whisk in the soft Butter (4 Tablespoons or 50 g). The butter must be softened first, at room temperature for 30 minutes
9. Incorporate the Flour (3 Tablespoons or 30 g), the Baking Powder (1 teaspoon or 4 g)
10. Whisk for a few minutes
The result is a pretty thick dough, not too liquidy
---
The mold
11. I recommend using a silicon square mold, easy to order online
12. The size of the silicon mold is 7.87" (or 7 7/8" or 20 cm) x 7.87" (or 7 7/8" or 20 cm)
Square Round Cake Silicone
13. Pour the batter into the mold
14. Spread evenly using a spatula
Wilton Offset Spatula
15.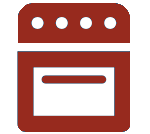 Bake in preheated oven at 360 °F / 180 °C until golden brown
Perforated Baking Pan
9 x 13 inch

16. Bake for approx. 20/30 minutes. Put a knife into the sponge and if it comes out clean it is baked.
17. Unmold. Wrap airtight
18. I recommend to set aside the dough in the freezer to harden it
Food Wrap
19. Unmold. Wrap airtight
20. To use in a layer cake, you may slice and soak with syrup