A delicious Californian Burger, healthier, tastier for the SoCal gourmets
---
About

this recipe

Here's a delicious Burger I discovered in Venice Beach, it was advertised as "Californian Burger" on the menu and as I loved it so much, I am sharing with you the recipe

This is more than a traditional burger, this is a healthier and more delicious Gourmet Burger!
Absolutley everybody, from Westwood snooty gourmets, to famous Hollywood stars, to free style surfers, to silicon beach programmers, to Muscle Beach bodybuilders love this burger : A homemade bun, a turkey patty cooked in a way that keeps it moist and juicy, avocado, roasted peppers, chipotle ketchup, etc...
A burger that is more delicious and healthier... Let's do it together !
---
In Venice
Let's go to Venice Beach
If you are looking for a nice lunch or diner, I recommend you to go to the 'Abbot Kinney boulevard'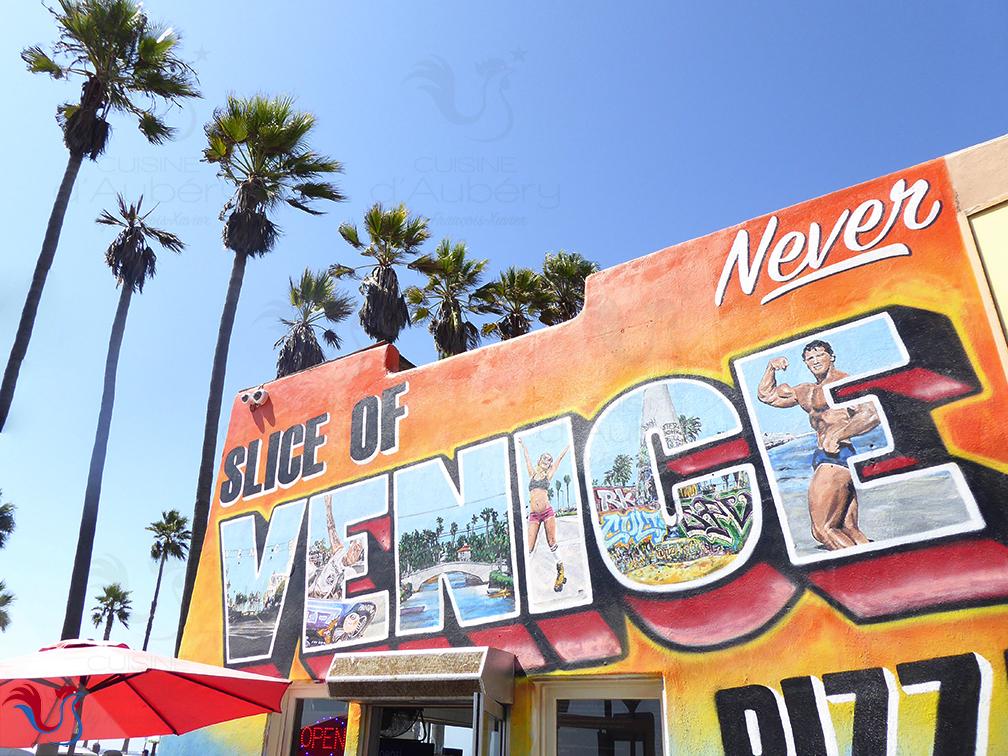 If you walk along the beach, you will discover the originality and relaxed atmosphere of South California
In Venice, people come to surf, to relax on the beach, walk on the 'strand', ride, and soak some sun
Here, skaters are dancing on the Hip Hop tunes with a nice rythm
And let's not forget sports, which are everywhere in Venice, between Basket ball, Basque Pelota, Paddle tennis and of course Bodybuilding. This is here called "Muscle Beach" that Arnold Schwarzenegger used to come workout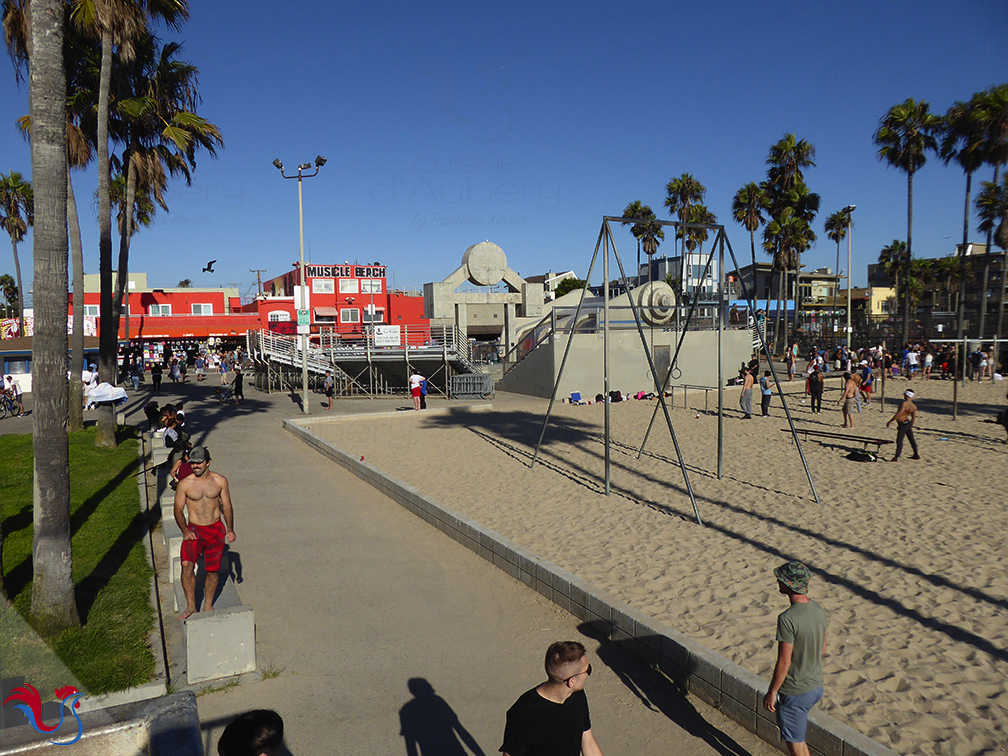 ---
---
---
---
---
---
Prepping the meat
1. For the Bunch of Cilantro (0.35 oz or 10 g) : as you may know, the stems are tastier than the leaves : do not discard them!
2. Wash and mince the Bunch of Cilantro (0.35 oz or 10 g)
Sekiryu Santoku Japanese Knife
4 Japanese Knives
3. Ground Turkey usually dries up while cooking : to avoid this, we are going to add ingredients to the meat to keep it moist
4. In a large mixing bowl, add: the Turkey ( ½lbs or 230 g), the Bunch of Cilantro (0.35 oz or 10 g), the Milk (1 Tablespoon or 20 g), the Breadcrumbs (½ Cup or 50 g) and the Egg (1)
5. Add in the Salt and the Pepper
6. Mix gently with your hand until homogeneous (you may want to use disposable cook gloves)
7. Wrap airtight, and refrigerate until needed
Stainless Steel Mixing Bowl
Large Mixing Bowls, Stainless Steel
---
The rest of the stuff
8. For the Red Bell Pepper (½) : Roast it over a flame, rotating it, until it is blackened
9. Once fully roasted (and blackened), wrap with plastic wrap ans allow to cool down
Silicone Kitchen Tongs
10. Then unwrap and remove the black skin with a paper towel (comes off easily)
11. Then dice into large strips
12. For the Red Onion (¼): Slice a few rings
13. For the Avocado (½): Peel and slice
---
Cooking the patties
14. Divide the meat mixture and form balls
15. Warm Vegetable Oil in a frying pan
16. Add the meat balls, and press to obtain patties
17. Cook, flip and cook the other side
Saute Pan Scanpan
18. Once cooked, cover with the Swiss Cheese (2 slices), just a few seconds until the cheese has melted
19. Transfer the meat to a plate
---
The burger Buns
20. I really insist : burgers taste ten times better with homemade buns. To make those buns as I did: The recipe is HERE
21. Otherwise, buy buns with the best quality, often found in the "gourmet section" of your local supermarket
Silicone Hamburger Bun Pan, Perforated
22. Toast the buns, face down, in the skillet
---
Building the burger
23. Time to assemble: I start with the Arugula (0.7 oz or 20 g)
24. Then continue piling the ingredients we prepared
25. For the sauce: Mix Ketchup with Chipotle. To purchase online, see HERE
26.
Chipotle can be very hot ! Just add a very small quantity and adjust if needed
Chipotle Peppers
Goya Pepper Chiles Chipotle
27. I like to serve the burger with the top bun on the side, just to brag about the nice, colorful quality ingredients
28. As this burger is pretty tall, I am using bamboo skewers. To purchase online, see HERE
Burger Skewers
That's it! Not complicated, and a real Californian gourmet burger !!