A salted Caramel crémeux, a tasty soft caramel cream used in many desserts
---
About

this recipe

Among the various recipes of Salted Caramel, this one is probably my favorite
This is a "crémeux", a soft of thin cream, used in a varirty of French desserts, with fruits like apples, and whipped cream
---
In Lyon
If one day you happen to visit the French city of Lyon, you need to visit the bakery shops of Bouillet, one of the top Pastry chefs in Lyon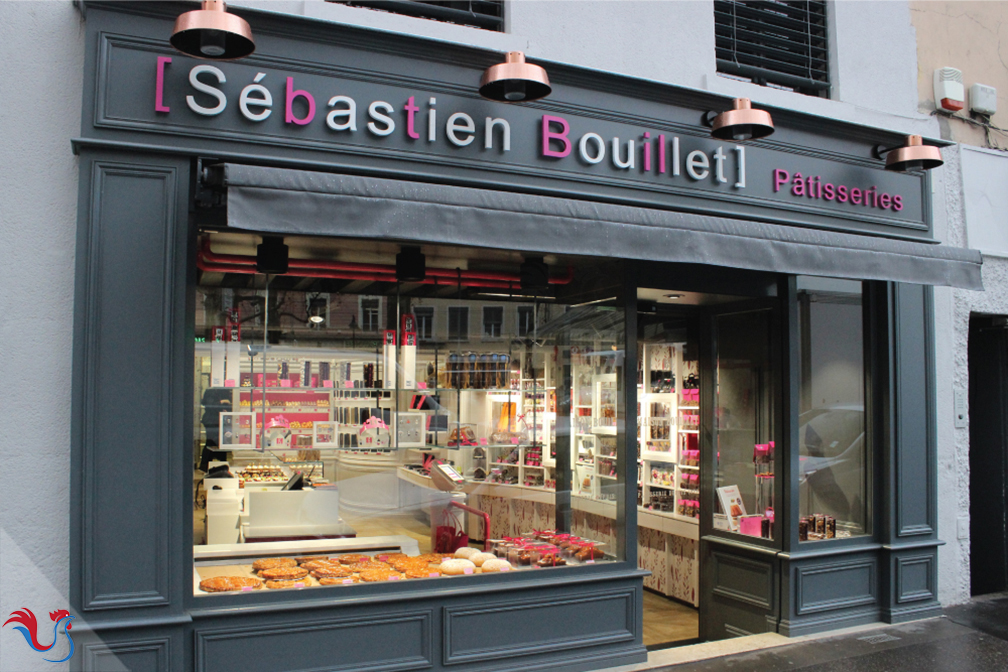 Here, I visited the original bakery, in the "Croix-Rousse"
Pâtisserie Bouillet
15 Pl. de la Croix-Rousse
69004 Lyon
France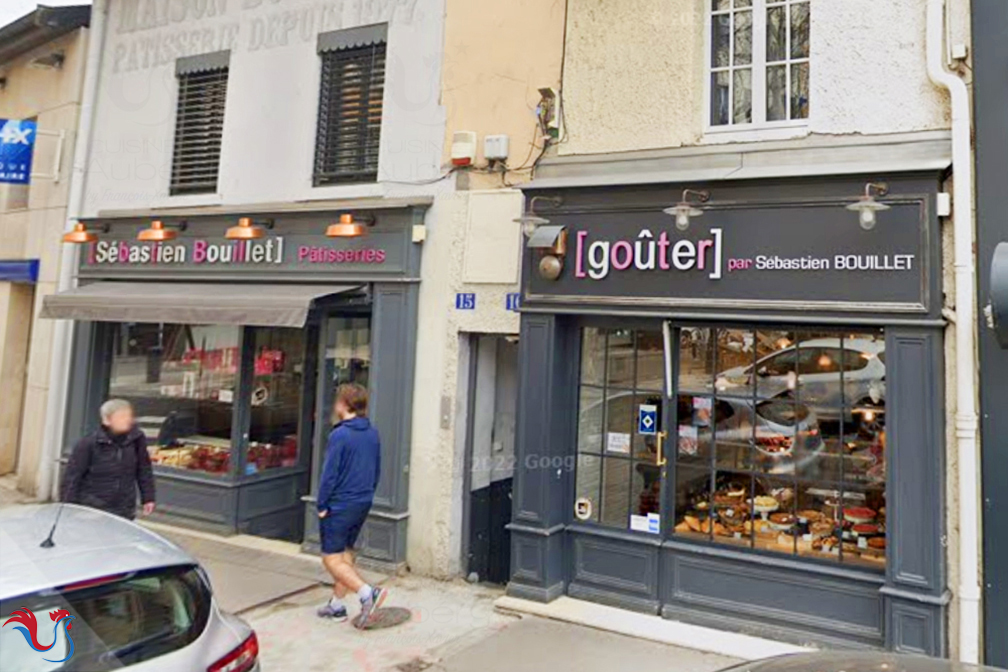 ---
About Crémeux, Jellies and Confits...
● A Crémeux is a cream thickened with Egg Yolks traditionally. Most often, a custard (crème anglaise), flavored, with sometimes gelatin if a liquid was added to the custard. The texture of a crémeux holds in a spoon, but is less firm than a pastry cream.
We use crémeux for flavors like Vanilla or Chocolate
● A Confit is a jam, thickened thanks to Pectin.
Most of the times, a confit is a fruit purée, thickened by a mix Sugar and Pectin
● A Jelly is a cream or a liquid that is thickened with Gelatin. The puree is cooked, the gelatin sheets are bloomed, and then added to the hot liquid (otherwise the gelatin won't work), and then dissolved.
Jellies are used for vanilla, chocolate and fruit
---
Source

of the recipe

This is a recipe I found in the magazine "Fou de Pâtisserie", Number 10

The recipe is on page 123
---
---
---
---
---
1. In a saucepan, pour the Glucose syrup (3 Tablespoons or 75 g) and cook until a boil, on medium/high heat
2. Use a deep saucepan, to lower the risk of getting burned
Glucose Syrup
Scanpan Saucepan
Calphalon Nonstick Sauce Pan
3. Add in the Sugar (⅔ Cup or 150 g) in 3 times, pour a 1/3 and wait for it to melt before adding the next 1/3
Kitchen Scale
4.
While this is cooking, warm the Cream (1 ⅓ Cup or 300 g) in the micro-wave
5. Do not use a spoon or a spatula inside the saucepan, to avoid the sugar to crystallize
6. Wait to obtain a nice "Amber" color, but not too dark (this would make the caramel bitter)
7. Pour in the Cream (1 ⅓ Cup or 300 g) in a slow stream
8. This is dangerous ! the cream may splash and the caramel may burn your hands. Use a deep saucepan and ideally, gloves
9. Continue cooking
10. Start stirring
11. Cook until the temperature reaches 220 °F / 103 °C
DeBuyer Whisk
Digital Laser Infrared Thermometer
Matfer Pocket Digital Thermometer
12. After 220 °F / 103 °C, transfer to a clean bowl
13. Let cool down at room temperature until the temperature decreases to 105 °F / 40 °C
Stainless Steel Mixing Bowl
Large Mixing Bowls, Stainless Steel
14. Add in the Salted Butter (½ Cup or 90 g) (cut in chunk, but cold)
15. We waited the temperature to cool down otherwise the hot caramel would cook the butter and give a bad taste
16. Stir until the butter is melted
17. That's it, you may use it right away
Food Wrap
You may store in the fridge, airtight wrapped with a plastic wrap