Delicious vegetarian curry, made with Lentils, Tomatoes, Coconut with powerful flavors, perfectly balanced
---
About

this recipe

If you like curry dishes, like I do, here's a must-have recipe !

This curry dish is simply delicious, with lots of savors, perfectly balanced. A great way to eat your vegetables, as this also is a vegetarian dish
The thing is, I am not "anti-veggie", as I know it's needed and part of a healthy diet. It's just that I find most vegetable dishes bland and boring. With this recipe, it's different ! I am amazed by its great taste : An easy way for me to eat my veggies !
I probably suffered too many years, growing up in France, with French long beans with no taste ("haricots verts"), boiled potatoes and steamed endives. What an awful way for parents to make their kids appreciate vegetables...
Well, with this curry dish, I will eat my veggies and will certainly catch up with all the veggies I refused to eat when I was a kid...
It's also a recipe that is perfect when I host diners at home for my vegetarian friends... which seems to become the new standard in California !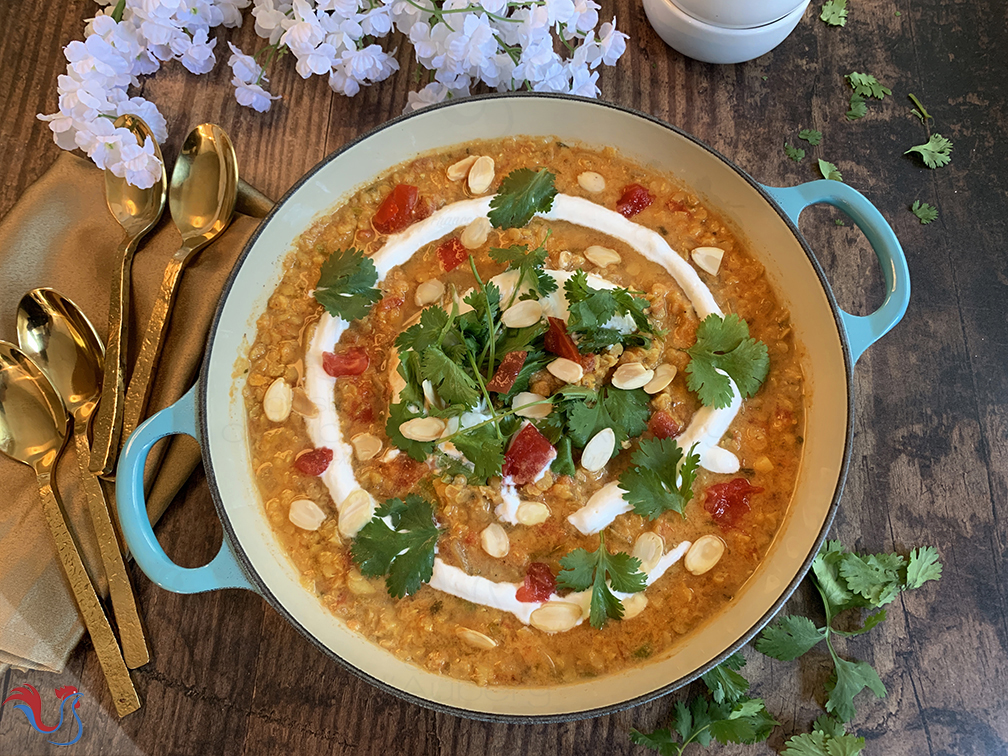 A recipe by chef Yotam, another one ! I have become his fan number one ( as claimed by millions : can there be millions of number ones ??? )
---
Source

of the recipe

This is a recipe that I found in Yotam's book "Simple"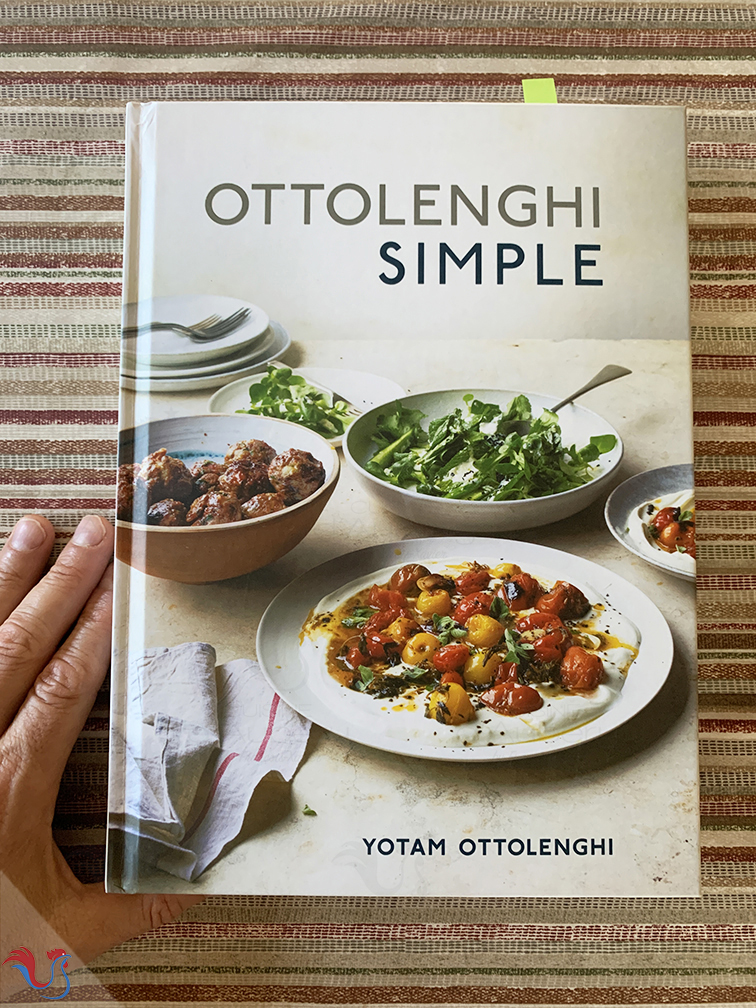 The recipe is on page 52
---
Modifications

to the original recipe

● Originally, Yotam Ottolenghi describes this dish as a "soup", but I prefer to convert this recipe into a "velouté", as I find it more elegant. To do this, I simply blend 1/3 of the soup and stir with the remaining 2/3, which results in a creamy and soft, elegant dish

● I add a bit of Sugar
---
---
---
---
---
---
---
For this recipe, I chose to use a "Le Creuset" Cast Iron Pan, for a good heat distribution
Cast Iron Shallow Casserole Le Creuset
Saute Pan Scanpan
1. Peel and chop the Onion (1)
2. Cook with vegetable oil
3. Pour the Curry powder (1 tablespoon), cook a few second, and add the Chile Flakes (Crushed red pepper) (¼ teaspoon)
4.
If you don't like spicy food, forget the Chile Flakes (Crushed red pepper) !
5. Add 1/4 of a glass of Water and stir
6. Peel and mince the Garlic Cloves (2) (I am using a microplane)
7. For the Ginger Root (3 Tablespoons or 20 g) : Grate the brown skin with a spoon (do not use a peeler), and mince
Microplane Zester Grater
Zester Deiss
8. Add in the Red Lentils (¾ Cup or 150 g) and stir
9. Cook for 1 minute
10. For the Tomatoes (2 Cups or 400 g), we need to remove the outer skin
11. Boil water in a saucepan
12. Cut a "cross" into the bottom of the tomatoes
13. Place the Tomatoes (2 Cups or 400 g) a few seconds in the hot water
14. I am using une slotted spoon : To purchase online, see HERE
Spider Strainer Skimmer
Scanpan Saucepan
Calphalon Nonstick Sauce Pan
15. Peel the tomatoes
16. Let cool down at room temperature
17. Chop the tomatoes into quarters and add in
18. Pour in the Water (2 ⅔ Cups or 600 g), stir
19. For the Coriander leaves (cilantro) (⅓ Cup or 25 g), cut the stems, and chop them. Stems have a more powerful taste than the leaves
20. Add in the chopped stems and keep the leaves for later
21. Season with the Salt (1 pinch), the Pepper (1 pinch), add in the Sugar (1 pinch)
22. Stir, and cover
23. Reduce the heat so that everything simmers gently
24. Cook on low heat for 20 minutes
25. Whip the Coconut Milk (1 ⅔ Cup or 400 g): You may use either a stand mixer (like a Kitchen Aid appliance) or an electric beater
KitchenAid 7-Quart Stand Mixer
Hamilton Beach Stand Mixer
Hand Mixer
26. After the curry has cooked, taste and adjust seasoning.
27. Keep a 1/4 of Coconut Milk for the the final topping (decoration), and pour in the rest into the casserole
28. Stir and cook a few minutes
---
For a creamy texture
29. You may stop now. However, as I mentioned already, I prefer to convert this "soup" into a "velouté", which I find more elegant
30. To do this, simply take between 1/4 to 1/3 of the curry and blend. (You may use either a blender, or a Food Processor (with chopping blades) or an immersion blender)
31. Pour the blend back to the casserole and mix. That's it !
Transfer into a serving dish, and pour the remaining whipped Coconut Milk, and add the Cilantro or Corander Leaves that I told you to keep earlier
That's it! Your sublime curry is ready!
Bon appétit!