A recipe from the acclaimed chef of the century, a quiche lorraine is a French classic
---
About

this recipe

Don't expect me to lie : This is not the type of dish that's recommended before showing your nice body on the beach of Santa Monica or Laguna Beach...
But who cares ? This quiche is SOOO good, you will think "why go to the beach and burn my skin ?".
Instead, spend your day baking and eating this quiche... a recipe from "the chef of the century", Paul Bocuse.
This a French classic among friends, family, or just for your own diners !
Like many quiches*quiches>course>, this one is good the same day, but can hold a few days in the refrigerator.
Growing up in France, this was one dish that we would have all year around. Was one of my favorites, and still is...
---
Source

of the recipe

A recipe from the book "Paul Bocuse: The Complete Recipes".

To purchase online, see HERE

The recipe is on page 110
---
Modifications

to the original recipe

I modified only a few things...

● I am using my own shortcrust pastry dough, that of Bocuse is almost the same (they all are pretty much the same in the end)

● Bocuse says to precook at 465 °F / 240 °C, and I find this too high - I recommend precooking at 285 °F / 140 °C

● In a Quiche Lorraine, you are not supposed to add Cheese. However I do it... I add the Swiss Cheese (½ Cup or 50 g)

● French people use "Lardons", something that is not easy to find in the States. I will show you how to obtain them using thin cuts of Bacon, instead. You may find it in delicacy stores.
---
---
---
---
---
---
---
---
---
---
---
---
Shortcrust Pastry, the crust
1. Start making the Shortcrust Pastry Dough (¾ Cup or 260 g). The recipes are HERE
2. You will need more or less ¾ Cup or 260 g, but plan to make more as you need to roll out a larger quantity around the ring and then trim
3. Wrap airtight
4. Then, leave for at least 1 hour in the fridge
You will need to prepare one of the Shortcrust Pastry Dough ("pâtes brisées"):
5. After your Shortcrust Pastry Dough "pâte brisée" is ready and rested in the fridge, roll it out on a well floured surface into a 0.19" (or 13/64" or 0.5 cm) thick circle
Wooden Rolling Pin
Rolling Pin with Removable Rings
---
The Molds
6. For the mold, I took a pastry ring, but you may find it easier to take a pie pan, that will need to lightly butter
7. Fold the dough, twice, into a wedge
8. Position on top of the mold
9. Unfold, and then press along the edges, and make sure to press in the angles with a knuckle (to make a good looking quiche with 90 degrees angles sides)
10. Cut along the edge to trim the excess dough
11. Place in the refrigerator
Perforated Baking Pan
Silicone Baking Mat
Perforated Baking Mat
---
Precooking the tart shell
12. Bocuse then tells us to "prebake" the tart shell, to dry it a bit. Doing this adds a step, but avoids the tart to turn soggy while baking...
13. Prick the tart shell with a fork
14.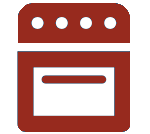 Bake in preheated oven at 285 °F / 140 °C for about 15 minutes
15. If you followed all the advice (like cooling down the dough in the fridge), the shell shold not move too much while baking. If it slides too much, you will need to fix it once it's out of the oven
16. For the Bacon, French cooks use "Lardons", which is a thick bacon slab cut into pieces
17. Thick cut is difficult to find in the States, as bacon is usually cut thin
18. To make lardons, I freeze my bacon (the thin slices stick together) and then I cut lardons, about 0.39" (or 25/64" or 1 cm) thick
19. These are what French cooks call "lardons"
Non-Slip Cutting Boards
Oak cutting board
Sekiryu Santoku Japanese Knife
4 Japanese Knives
20. Fry in an ungreased frying pan until the pieces have browned
21. Pat dry with paper towels
---
The Batter
22. For the batter, it's easy ! Just whisk together : the Eggs (2), the Whipping Cream (½ Cup or 110 g), the Salt (1 pinch), the Pepper (1 pinch) and the Nutmeg (1 pinch)
23. Optionally, add the Swiss Cheese (½ Cup or 50 g) : Bocuse doesn't do it, but I strongly recommend it!
Stainless Steel Mixing Bowl
DeBuyer Whisk
24. Place the Bacon (⅔ Cup or 125 g) over the bottom
25. Pour the mixture into the pie pan
26. Bocuse dots this pie with diced Butter (2 Tablespoons or 30 g) (I don't do this)
---
Baking
27.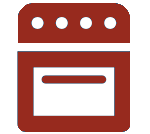 Bake in in preheated oven at 305 °F / 150 °C, for about 20 minutes. If the quiche colors too much, cover with aluminium foil
28. If the quiche inflates too much while baking, don't hesitate to pinch it with a knife
After baking, let cool down at room temperature, the quiche will shrink slightly
You may eat it right away, even though I prefer leaving the quiche in the fridge 24 hours and then heating it up (I find it tastier)
Like all quiches, you will need to keep the quiche refrigerated