A great recipe from Pastry Master Pierre Hermé, for a creamy custard based Creme brulée and Pistachio lovers
---
About

this recipe

Here's an original crème brulée with pistachio flavor that I loved instantly
As a result I kept eating Crema Catalanas and not Creme Brulées, until the day I stumbled on a recipe from Pierre Hermé and I just fell in love with it.
Thanks to this recipe, I have now switched back to Creme Brulées !
---
Source

of the recipe

This is a recipe that I found in Pierre Hermé's book "Plaisirs sucrés".

Be aware that lots of blogs mention this recipe, but with mistakes. I am giving you the authentic one here!

To purchase online, see HERE

The recipe is on page 16
---
Modifications

to the original recipe

● I add Pistachio Paste instead of grinding pistachios (makes it easier)

● I bake at 245 °F / 120 °C instead of 220 °F / 100 °C
---
---
---
I am using the Pistachio Paste (½ Cup or 100 g) instead of grinding pistachios, it's so easier !
If you live in the states, pistachio pastes can be purchased online easily.
If you live in Los Angeles, check the Surfas stores
You may find pistachio paste in specialized stores, but the best way to enjoy your own pastries is to make the paste yourself
I am showing you a few recipes HERE
Pistachio Paste Fiddyment Farms
Pistachio Butter
1. I a mixing bowl, whisk together the Egg Yolks (3) and the Sugar (⅓ Cup or 80 g)
2. In a saucepan, warm : the Pistachio Paste (½ Cup or 100 g), the Almond Extract (2 drops), the Milk (1 Cup or 250 g) and the Whipping Cream (1 Cup or 250 g)
3. My Pistachio Paste was too compact and I had to mix it using a hand blender
4. Bring to a boil
Scanpan Saucepan
Immersion Multi-Purpose Hand Blender
Large Mixing Bowls, Stainless Steel
DeBuyer Whisk
5. Pour the hot liquid onto the eggs/sugar mixture
6. Whisk until smooth
7. Strain the mixture into a bowl
Large Stainless Steel Fine Mesh Strainer
Sifter for Baking
8. I find it more convenient to use a measuring cup with spout
---
Molds
9. For creme brulées, the typical serving containers are terra cotta ramekins
3-Inch Ramquins (ramekins)
Cazuela Clay Pans – 4.5 inch
10. Pour in the mixture: Hermé mentions 0.39" (or 25/64" or 1 cm) deep, yet I prefer 0.78" (or 25/32" or 2 cm)...
11. Hermé doesn't mention to use the traditional roasting tray with hot water, that is so simpler !
Perforated Baking Pan
USA Warp Resistant Baking Pan, Aluminized Steel
---
Baking
12.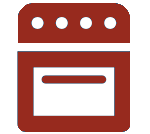 Place in the oven and bake at 245 °F / 120 °C
13. While it's baking, shake one ramekin and check the center : let them bake until they are barely softly set (almost liquid)
---
Cooling down
14. Take the ramekins out, let them cool down at room temperature.

Placing the ramekins in the fridge to cool completely for at least 2 hours. This can even be done overnight without affecting the texture.
---
Caramelizing
15. You will need a torch which is the best method.

Otherwise, you can use the broiler of your oven
Culinary Torch
16. Take the ramekins out of your fridge
17. Spread evenly some Sugar, evenly on the top of each ramekin, using a spoon or a strainer
18. Using the torch, melt the sugar and form a crispy top
19. You may also use the broiler
20. This is a nice crispy top !
21. Hermé didn't mention it, but I like to add some crushed raw unsalted Pistachios
The contrast between the cold custard and the warm caramel is what makes this dessert so irresistable !
Try this recipe and share it with friends and family !!