Delicious chocolate brownie-like small cakes, a recipe from Californian star Thomas Keller
---
About

this recipe

In a previous recipe, I told you about my niece Clara who lives in France, eastern side called 'Jura'
And although I go to visit her as much as I can, I unfortunately don't get to see her often since I moved to Southern California.
I am hoping that in a few years she comes visit her uncle in California...
And recently, my sister sent me a photo of Clara.
I was totally shocked to realize that my little Clara has turned into a teen in just 2 years.
That's what happens when you don't see kids growing up day to day
And so, feeling a bit down, I started looking at the photos back then when I visited Clara 2 years ago...
Sometimes, you want kids to stop growing up...
... And I remembered that 2 years ago, Clara and I spent a whole evening baking together, and that was absolutely greaaaat fun. I stumbled on these photos when I taught Clara to bake those French brownies
And so, Clara is going to show you today how to bake Chocolate "Bouchons", French soft intense and wonderful brownie-like cakes, a recipe of Californian star Thomas Keller.
"Bouchon" means cork in French. It also means a small traditional French restaurant in Lyon, the French capital of gastronomy, and that's why Keller called his restaurants "Bouchon"
---
Source

of the recipe

A recipe by my Californian star, Thomas Keller, from his book "Bouchon Bakery".

To purchase online, see HERE

The recipe is on page 102
---
Modifications

to the original recipe

● I use less Sugar : ½ Cup or 110 g instead of 162 grams

● I use less Chocolate Chips : ½ Cup or 80 g instead of 112 grams
---
---
---
---
---
1. Mix together the Eggs (3 Tablespoons or 75 g), the Sugar (½ Cup or 110 g) and the Vanilla Extract (1 teaspoon)
Stainless Steel Mixing Bowl
Large Mixing Bowls, Stainless Steel
DeBuyer Whisk
Polyglass Spatula
2. Melt the Butter (⅔ Cup or 141 g), add in and gently mix in order to obtain a smooth mixture
3. Sift the Flour (⅓ Cup or 50 g), the Cocoa Powder (½ Cup or 50 g), the Salt (½ teaspoon or 0.4 g) over the bowl and gently mix
Ghirardelli Ground Cocoa
Cocoa Powder Valrhona
Add in the Chocolate Chips (½ Cup or 80 g) and gently mix : it's ready !
---
Cuisson
Mini Muffin and Cupcake Pan
4. Spray some oil onto your molds
5. Pour the batter in your molds
6.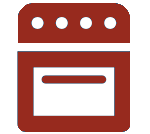 Bake in preheated oven at 360 °F / 180 °C for 10/15 minutes
Sunflower Oil Cooking Spray
Avocado Oil Spray
Carefully unmold your brownies while they are still hot.
OXO Mini Strainer