Jacques Pépin's Shortcrust Pastry Dough (method #2 : with a food processor)
---
About

this recipe

After a first recipe of Julia Child's Shortcrust Pastry Dough, here's a recipe from Jacques Pépin, you may find this one easier as we are going to mix the dough in a Food Processor (with chopping blades) ('robot coupe')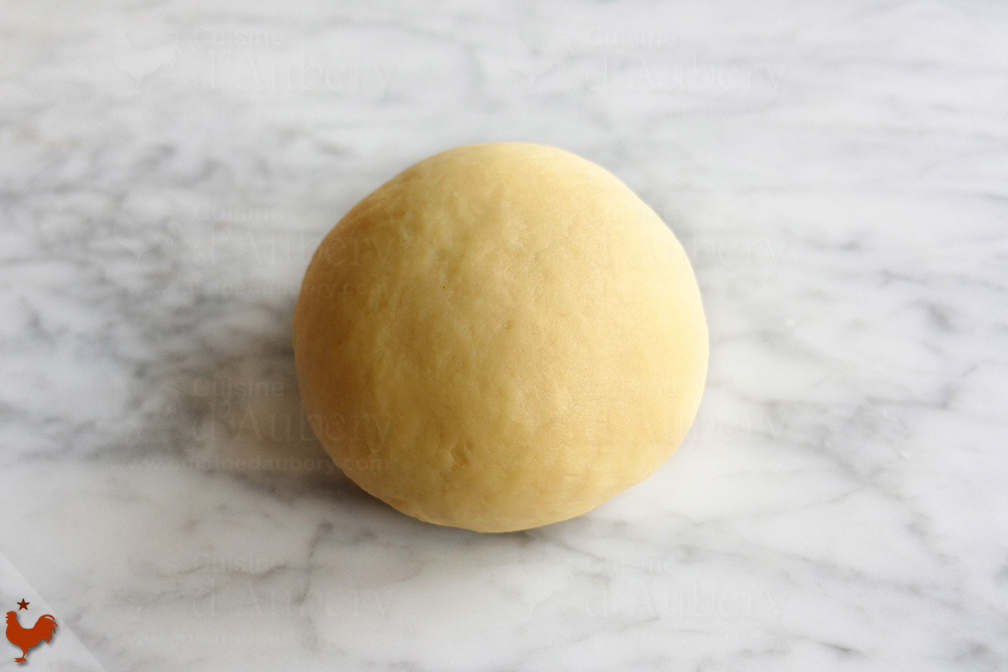 Both methods work well
But you will see that this one is much faster and efficient
Hence this recipe being my favorite...
This is also the method that French professional cooks use (for efficiencies)
---
Source

of the recipe

A recipe I found in Jacques Pépin's book "Jacques Pepin Celebrates ".
Jacques Pépin has starred in numerous television shows, including with Julia Child, and that's a real honor !

The recipe is on page 321
---
Modifications

to the original recipe

I modified only a few things...

● I multiplied the quantities of the book by 2
---
---
---
---
---
---
---
---
---
---
The Butter
1. Dice the Butter (¾ Cup or 169 g) but do not let it melt or even soften : The Butter must be cold and you must work onto the next steps rapidly
2. The Butter (¾ Cup or 169 g) must be cold and hard : The blade of the Food Processor (with chopping blades) will soften it
3. The Butter (¾ Cup or 169 g) is too soft here as you can see on the photo : place it in the fridge and wait 30 minutes before even starting the recipe
4. In the mixing bowl of a Food Processor (with chopping blades), combine:the Flour (2 ¼ Cups or 330 g), the Butter (¾ Cup or 169 g) cold, to cut into 0.25" (or 1/4" or 0.635 cm) thick slices, the Salt (¼ teaspoon) et the Sugar (1 teaspoon)
5. Crumble the dough by processing the dough in 1 second intervals
KitchenAid Food Processor
Food Processor Cuisinart
6. Then process the dough for 8 seconds
7. At this point, pieces of Butter should still be visible
8. French cooks call this a "sand"
6-Inch Stainless Steel Mixing Bowl
9. Time to add the Water (½ Cup or 104 g) : it must be very cold
10. If the Water is not cold enough (like during summer), place in the freezer for 5 minutes
11. Gradually add the Water (½ Cup or 104 g), mix by hand and stop adding when you can gather the dough with your hands into a mass
12. The dough is done when it has begun to mass. Proceed to "Frasage" (blending)
13. The dough gathers together
---
Frasage (blending)
14. Gather the dough again into a mass and repeat the "frasage" : Do this several times
---
Cooling down
15. Cover with plastic wrap and refrigerate for at least 1 hour before using
Food Wrap
Pretty easy, he?