The creme de la creme of all potatoe recipes, aka Dauphinoise Potatoes, this is the French wonderful dish made of layered potatoes, baked in a garlic cream miracle ! A recipe by the genius chef Bocuse
---
About

this recipe

You may have heard about this essential, popular, well-known French dish "Gratin Dauphinois"

But do you have Bocuse's recipe ?
Well, it's time to consider following the steps of Bocuse (acclaimed as "The Best Chef of the XXth century)
The "creme de la creme" of all potato recipes, a real comfort food that is spectacular, often served as a side dish with a nice meat
This traditional French recipe originates from a region called "Dauphinois" hence the name. In the original recipe, you wouldn't find cheese.
In this recipe, "Monsieur Paul" uses cheese ! Yes ! That's actually how I like this wonderful dish
---
Source

of the recipe

A recipe from the book "Paul Bocuse: The Complete Recipes".

To purchase online, see HERE

The recipe is on page 486
---
Modifications

to the original recipe

● Paul Bocuse bakes this dish in the oven only. I prefer to "pre-cook" on the stove, which makes the potatoes softer, before baking

● Paul Bocuse rubs the dish with garlic. I prefer adding the Garlic Cloves (2) into the dish for more flavors

● Bocuse uses Milk. I add a bit of Cream for a creamier batter
---
---
---
---
---
---
Which potatoes?
For the Potatoes (2 ¼ lbs or 1 kg) you will need to choose the right kind...
The favorite kind for this recipe that Bocuse recommends is the Binge that is hard to find in the States (never seen it to be honest)
I recommend the Russet potatoes as a substitute
Avoid the hard potatoes kind which won't get soft enough
Conversely, avoid the potatoes used for 'mashed potatoes' that tend to be too soft. You want a gratin, not a mashed potatoe dish...
---
Let's get started !
1. Peel the Potatoes (2 ¼ lbs or 1 kg)
2. Do not soak them in water ! They would release their starch which we want to keep for this dish
Good Grips Y Peeler
Good Grips Swivel Peeler
3. Slice the Potatoes (2 ¼ lbs or 1 kg) in half
4. Slice them, if possible with a mandoline
5. Be careful with this instrument : the mandoline is a dangerous tool. You may use a chef knife instead
Japanese Mandoline Slicer
6. Slices must be roughly 0.07" (or 5/64" or 0.2 cm) thick
---
Choosing the dish
To cook, use a large pot or a cast-iron pot (Dutch Oven)
The best is to use a non stick pan. Otherwise, the potatoe starch and the milk will form a crust at the bottom
If you pan is not a "non stick" one, here's a trick from Bocuse: Butter the pan generously, to avoid the crust
---
Pre-cooking
7. In a large pot or a cast-iron pot (Dutch Oven), pour the Milk (3 Cups or 700 g), the Cream (1 ⅓ Cup or 300 g), the Salt (1 pinch), the Pepper (1 pinch) and the Nutmeg (1 pinch)
8. Crush the Garlic Cloves (2) and add in (I use a microplane)
6-Quart Stock Pot with Cover
Cast Iron Dutch Oven Fontignac
Microplane Zester Grater
Zester Deiss
9. Then add in the Potatoes (2 ¼ lbs or 1 kg), one by one (to avoid them to stick)
10. Cook on low heat for about 10 minutes
11. We are just looking to pre-cook the Potatoes (2 ¼ lbs or 1 kg)
12. We must stop before they are entirely cooked ! Otherwise they will become too soft while baking in the oven
13. Stop cooking, and strain, using a colander and keep the cooking liquid
14. Lay the potatoes on a tray
Large Stainless Steel Fine Mesh Strainer
Sifter for Baking
15. I pour the liquid on a large tray to allow it to cool down fast
16. Then place in the fridge for 30 minutes
17. We are cooling down to avoid the liquid to cook the eggs later
USA Mini Sheet Warp Resistant Nonstick Baking Pan
18. After this cooling time, whisk the Eggs (2) in a bowl
19. Beat with the cold liquid
20. Grate the Swiss Cheese (2 ½ Cups or 250 g). Always better to grate your own cheese ! Do not buy grated cheese !
21. Butter generously a dish. Make sure your dish is oven proof!
Kitchen Scale
Pyrex 1.5qt Loaf Dish
Pyrex Dish (10" x 15")
Emile Henry Baking Dish
---
Putting together
22. Start by pouring a first thin layer of the liquid at the bottom of the dish
23. Add a layer of pre-cooked patatoes, one by one
24. Then add a layer of grated cheese
25. Repeat these steps to add more layers : liquid, patatoes, cheese
26. Last layer must be the cheese, as it will create the "gratin"
---
Baking
27.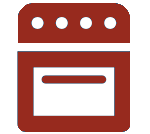 Bake in preheated oven at 305 °F / 150 °C for about 50 minutes
28. Slow cooking is one of the secrets of this recipe, as recommended by chef Bocuse
29. If the "gratin" becomes too dark of too crusty, lay an aluminium paper on the dish
30. Remove from oven. You may serve.
---
Resting
31. However - I strongly recommend to not eat this dish right away. Remove from the oven, let cool down at room temperature, then store in the fridge overnight
32. Next day, reheat the dish at low temperature. Flavors will be enhanced; that's the way they do it in restaurants
Round Cookie Cutters Set
Bon appétit!