Delicious chocolate and hazelnuts spread invented in Italy
---
About

this recipe

Gianduja is a marvelous spread that can be used in a lot of recipes. Easily found in Europe on supermarket shelves, I decided to make it from scratch
This can be used in several recipes like my Chocolate Hazelnut Spread
Did you know that Nutella was originally a Gianduja ?
---
Origin

of the recipe

Gianduja is named after a character in the Italian theater "Commedia dell'arte ". The Italian pastry chefs used to add hazelnuts to their chocolate and named it after the character "Gianduja"
---
Source

of the recipe

This recipe is from the French chef (Italian descent) Christophe Michalak, a renowned young pastry chef
---
Ensemble avec Christophe !
---
---
---
---
---
---
The Hazelnuts
1.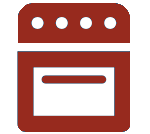 First you will need to roast the Hazelnuts (will taste better !), in preheated oven at 360 °F / 180 °C for 10/15 minutes
Perforated Baking Pan
9 x 13 inch

2. It's better to peel the Hazelnuts as their skin may make the spread too sour
3. ... which is easy to do by rubbing them in a clean towel
---
The chocolate
4. You will need a very good Milk Chocolate from the best brands. The ones I recommend are: Valrhona Jivara, or Valrhona Dulcey, or Valrhona Bahibé
5. If you live in Los Angeles, I found my Valrhona Jivara in a French market in South Pasadena
Nicole's market
921 Meridian Avenue
South Pasadena, CA 91030
USA
6. Michalak warms the Milk Chocolate ( 7 oz or 200 g) in a saucepan on low heat
7. Grind the Hazelnuts (1 ¼ Cup or 200 g) and Icing Sugar (1 Cup or 200 g) in a powerful blender or mixer (magimix or ninja)
Ninja Food Chopper Express
8. Pour the melted Milk Chocolate ( 7 oz or 200 g) and mix well for 5 minutes
9. The result is a paste that is a bit grainy, more grainy than the products you can find in stores, but believe or not, it's better. Grainy textures are very trendy in French pastries nowadays...
This paste cannot be stored too long, it's better to use it right away. If it's too solid by the time you want to use it, you can warm it up on a double boiler to liquify it...