Wonderful treats for your dog, a recipe from top chef Thomas Keller, 3 stars Michelin, just because your dog deserves the best...
---
Ma number one fan
As I was telling you in my previous post (HERE), I realized last holidays that the blog hit the 10 Million pageviews, a real surprise and quite a shock !
And I decided to cook something special and for someone ... special ! And the winner is simply my dog Rubi, for she has been my number one fan in the kitchen since I started the blog...
Rubi is always there for me... whether I have to cook in the middle of the night to finish my pastries, or when I throw a fit after failing a recipe... And, if I cook for so many people, shouldn't I cook as well for Rubi who deserves it more than all those hungry humans ?
And between you and me, how can you not go nuts for this beautiful canine face ??
---
About

this recipe

Homemade dog treats, easy to do, and a wonderful way to tell your dog that you love him
A Thomas Keller recipe, 3 stars Michelin
And I am ready to bet that those homemade treats are healthier than dog treats from the supermarket...
And Rubi loves them everytime...
---
Source

of the recipe

A recipe by my Californian star, Thomas Keller, from his book "Bouchon Bakery".

To purchase online, see HERE

The recipe is on page 52
---
Modifications

to the original recipe

I modified only a few things...

● I add Asian Fish Sauce 'Nuoc mam'

● I chose to bake at a higher temperature (320 °F / 160 °C instead of 245 °F / 120 °C), to shorten the baking time...
---
---
---
---
---
1. Cut the Bacon (2 ½ Cups or 453 g), in pieces of 1" (or 2.5 cm) in diameter
2. Cook the Bacon (2 ½ Cups or 453 g) in a skillet until they turn brown and almost crispy
3. Set aside in a bowl
4. Cook the Chicken Livers ( 13 oz or 370 g) in the same skillet, but only briefly on each side, you don't want to dry too much the Chicken Livers
5. Set aside the Chicken Livers ( 13 oz or 370 g) in a different bowl
6. Wait that those meats cool downMix
7. Mix the Bacon in a Food Processor (with chopping blades) (sometimes called 'robot coupe')
8. Add in the Chicken Livers and mix
KitchenAid Food Processor
Food Processor Cuisinart
9. You may use a stand mixer (like a Kitchen Aid appliance) or do everything manually with a spatula !
10. Transfer the meats to a bowl
11. Add in the Cornmeal (¾ Cup or 130 g) and mix together. If you are using a stand mixer (like a Kitchen Aid appliance), use the 'paddle'
12. Add in the Flour (3 Cups or 450 g) and mix
KitchenAid 7-Quart Stand Mixer
Hamilton Beach Stand Mixer
13. While mixing, slowly pour the Chicken Stock (1 Cup or 235 g)
14. Even though it's not in the original recipe, I add in the Asian Fish Sauce 'Nuoc mam' (1 teaspoon)
15. The result is a mass that is easy to hold and transfer onto a work surface
Like Keller, I use a cookie cutter to make bone-shaped cookies
Between you and me, your dog doesn't give a damn about the shape of those treats, so if you don't have the same cookie cutter, you can always cut any shape with a knife...
Dog Bone Cookie Cutter Set
16. Place the mass between two parchment papers
17. Roll the dough, 0.39" (or 25/64" or 1 cm) thick
18. Cut the shapes you want, with a cookie cutter or a knife
Silicone Baking Mat
Wooden Rolling Pin
19. Transfer those cuts onto a baking tray...
---
Baking time
20.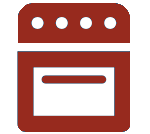 Bake those treats at 320 °F / 160 °C. For best results, use a convection oven
21. After 1 hour (more or less), remove from oven
22. In a bowl, mix the Ketchup (3 Tablespoons or 50 g) and the Egg White (2 teaspoons or 13 g) to obtain a glaze
23. Brush the treats with this glazing
24. Bake again for 30 minutes to dry out the glazing
Perforated Baking Pan
Perforated Baking Mat
Pastry Brush
Silicone Brush, Heat Resistant for Pastry and Barbecue
After baking, let cool down. I recommend storing the dog treats in the fridge
And I use those special treats whenever Rubi deserves it... ( which happens often as she is a real angel... )
Rubi is a fine gourmet and is real picky... and loves those treats everytime !